In 2004 a local geology student found the skull of Fedexia striegeli in Western Pennsylvania. The specimen was lying at the base of a road cut that exposes the Casselman Formation. The Casselman is the formation above the Ames Limestone. The geologic age is not exact The fossilized skull was found at the base rather than pulled from the hillside. Estimates place it to be around 305 million years old.
Finding any sort of amphibian fossil in Pennsylvania would be a huge deal. This specimen, found by Adam Striegel, a University of Pittsburgh student, pushed back the discovery of the Trematopidae, a group of carnivorous amphibians by almost 20 million years.
Location of Discovery
Upon discovering the fossil, Mr. Striegel originally thought he had found a fern fossil. The discovery happened on land owned by FedEx, which is near the Pittsburgh Internation Airport in Moon Township. Thus, the genus was named Fedexia for FedEx, and the species is striegeli for the discoverer.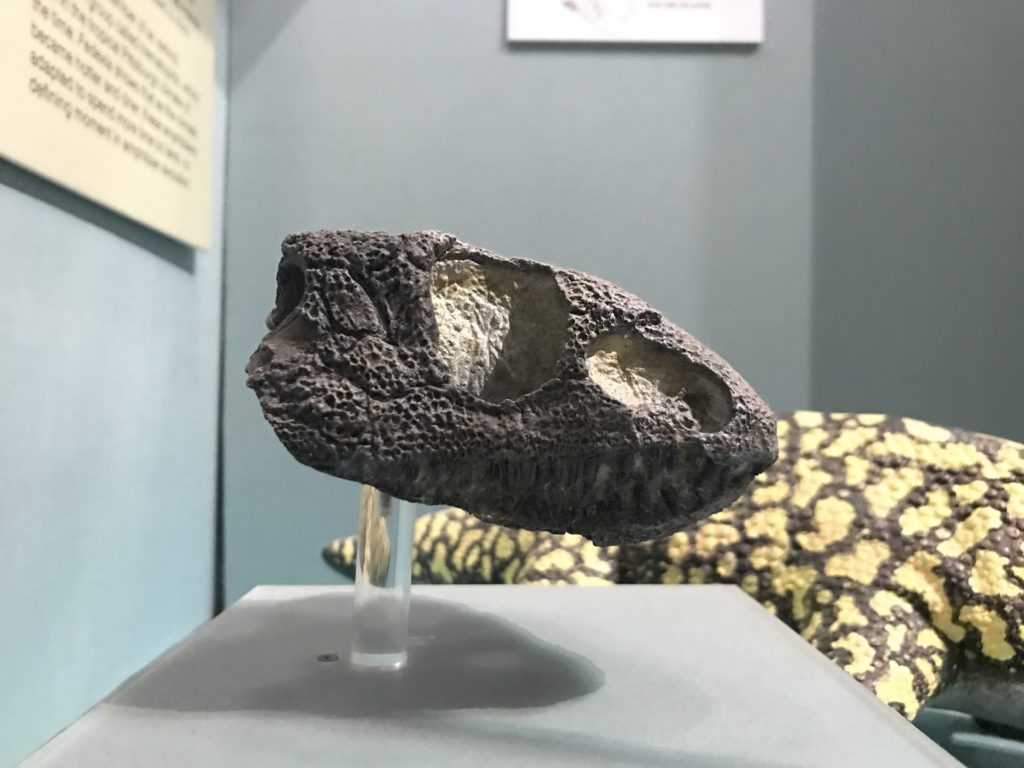 Trematopids in the Pennsylvanian Subperiod
Before the discovery of Fexedia, only three reports from the Trematopidae family came from the Pennsylvanian subperiod of time. Previous finds included Anconastes vesperus (CM 41711) in New Mexico (Berman et al 1986) and Actiobates peabodyi in Kansas (Eaton 1973).
Pennsylvanian Trematopid Discoveries
| | | |
| --- | --- | --- |
| 2004 | Pennsylvania | Fexedia striegeli |
| 1986 | New Mexico | Anconastes vesperus |
| 1973 | Kansas | Actiobates peabodyi |
Perceived Age of Pennsylvanian Trematopid Discoveries
In the type species paper (Berman, Henrici, Brezinski, Kollar 2010), there is a chart (Fig. 3) showing geological age information of these three discoveries. Correlation of the species and climate is shown with sea level, precipitation, glacial frequency, and glacial extent. By using this chart, I made rough estimates of the perceived ages of these three species, +/- 3 million years apiece.
| | | |
| --- | --- | --- |
| 302 mya | New Mexico | Anconastes vesperus |
| 305 mya | Pennsylvania | Fexedia striegeli |
| 306 mya | Kansas | Actiobates peabodyi |
Other Vertebrate Fossils in Pittsburgh, Pennsylvania
While scarce, vertebrate fossils can be found in the Pittsburgh region. In the Annals of the Carnegie Museum, Volume 4 (1906-1908), E.C. Case describes vertebrate fossil remnants found in Pitcairn, PA. They appear to be within the Pittsburgh Red Beds, which sits below the Ames Limestone. The author reported the fossils from four feet above the base of the 37-foot thick red clay.
In the paper published in the Annals of the Carnegie Museum, Volume 78, No 4, the Pitcairn specimens were mentioned when showing local relation to the discovery of Fedexia.
More Information about Fedexia striegeli
More Information on Pennsylvanian Trematopids and Vertebrate Fossils